About Me
A real photo coming soon, I promise ;)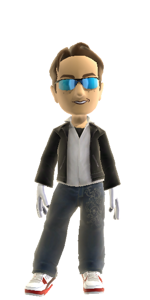 My Xbox Live Avatar!
Hi! I'm Laurens 'CrabbyData' Andriessen, 29 years of age at this very moment. Currently living in The Netherlands, a small country in West-Europe where it rains almost every day... I'm serious!
What's "CrabbyData"?
I have a small freelance webdesign company called
CrabbySoft
which I started somewhere June 2007. It's not a real (registered) company yet, but I'm planning to make it an official business somewhere in the beginning of 2009. The name 'CrabbySoft' originates from my overall username 'CrabbyData'. I first used 'CrabbyData' on the Microsoft Xbox Live network (online gaming network for the Xbox) and from that moment on I used 'CrabbyData' almost everywhere. My current gamertag on Xbox Live is 'DLA CrabbyData'.
Laurens' Webprofiles
Below you'll find a list of some personalized profiles of mine. If you'd like to get in touch with me directly, please
click here
.
My CrabbySoft Personal Profile
Info on me within CrabbySoft. Things like my position, projects, remarks, vision, etc.
"Stay connected and reach new people"
This is my
LinkedIn
business-type profile where you'll find proffesional information about me and CrabbySoft.
What my ears listen to
My (digital) musical history on the famous Last.fm-site!
My very own YouTube Channel
Here you'll find my video's. It's not much, but it's something... ;)
My Xbox 360 Gamerprofile
My statistics and achievements for DLA CrabbyData (that's me) on the Xbox 360. Many things you can look at for hours!
My MGC Profile
Same as above, but with much, much more details! The gamercard shown above is from MGC :)
My Halo 3 Service Record
You want even more stats? Here you go! :D On Bungie.net you can view all my statistics on my Halo 3 (an Xbox 360 game) progress.
My Xbox 360 Clan Forum Profile
This is my forum profile on my Xbox 360 clan forum (Dutch Live Alliance)
My Social (Friends) Network
This is a (Dutch!) site, with a lot of personal information about me.
For Dutch people only!
My Keyboard and Mouse Statistics
Loads of data about my 'keys and clicks' are recorded by WhatPulse:
| | |
| --- | --- |
| Keys | 0 |
| Clicks | 0 |
| World Rank | #0 |
| Team | (#0) |
| Rank in Team | #0 |
My VDC Personalized Page
The Valve Developers Community is a large Wiki-site. You'll find almost anything you want to know about coding, mapping and creating things for Valve's Source Engine, known from games like Half-Life (1, 2, the Episodes and Deathmatch), Counter-Strike: Source and Portal. I've made maps, which was fun, but I've never really finished one... :P
de_crabby
came along very nicely though (on the screenshot it looks like shit, but this is inside the
Valve Hammer Editor
(the program with which you create the maps)) :)
My Yahoo! Profile
Isn't much, but it's something :P